St John Ambulance Turangi Receives Distribution From King Country Trust (previously the King Country Electric Power Trust)
After consultation with the Turangi community, KCT is thrilled to announce it will distribute a total of $504,214 to St John Ambulance, Turangi. These funds will enable the building of a new garage to house two ambulances on the section adjacent to the existing site on Ohuanga Road.
In past years, KCT has passed a major share of its income to consumer beneficiaries by way of a credit on their power accounts.
"The thought of achieving better community outcomes has always been in the back of trustees' minds," said the Trust Chair Adie Doyle. "Distributing directly to beneficiaries will always be the default position but by utilizing creative thinking and the Trust Fund as leverage, greater community outcomes can be achieved". These funds are in lieu of a credit to consumer beneficiaries in the Turangi area in 2020.
"This decision has taken significant fundraising pressure off the Turangi Community" said Fraser Lake, Chair of Tuwharetoa St John Turangi Area Committee.
"The Christchurch earthquake was a wakeup call because some emergency services were unable to respond, as their buildings had collapsed.
Our committee, like many others around the country, is tasked with the responsibility of raising all the money to build earthquake proof garaging for our ambulances. Without the fantastic support of KCT, we believe that fundraising efforts would have taken years".
Attached photo Left to Right
Uwe Kroll, Robert Carter, Adie Doyle (Chair of KCT), Fraser Lake, Graeme Cosford, Sandra Greenslade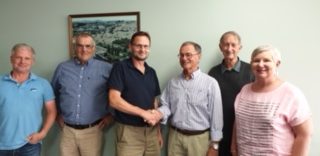 Top